Studio and Gallery in Kelowna, BC.
Artist Statement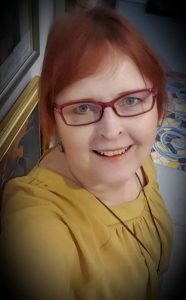 I have always been drawn to artistic creations and beauty. My formal painting practise began over 25 years ago in watercolours through taking classes, workshops with renowned artists, reading and self-taught explorations. My practise has expanded to include acrylics and drawing materials. I interpret natural places or natural things that I've experienced using formal knowledge and intuitive process.
My whole life I have been visually impaired, my world has always felt a bit isolated and disturbing. I am an evaluator, my approach is a fine line discerning between structured discipline and intuitive freedom. Factors that connect my work are dynamic colour, texture, value, beauty, light and emotional expression. Sometimes I use unconventional colour combinations in my art but colour harmony is very important to me and each painting is evaluated with this criterion in mind.
Even as a little child, I have been a collector of the marvelous colourful curiosities I see all around me in nature: feathers, rocks, twigs, shells- all bits of textural heaven! Other collections of specialty papers, fabrics, photographs and ephemera often find their way into my collage mixed media paintings. Collage makes me very happy and gives me permission to be that free 6 yr old again, but with adult sensibilities.
It brings me joy when the viewer can bring themselves into "my picture" and respond with their own memories and experiences. My paintings are not site specific places, they are more universally inspired.
My work is informed by other artists that I admire including Gerald Brommer, Robert Genn, Nita Leland, Mary Todd Beam, Jack Reid, Zoltan Szabo, Winslow Homer, JMW Turner, Tom Thompson and the Group of Seven but I work very hard to express my own honest and authentic voice. I've been through many painful experiences and had to give up a lot to be true to myself, my collage work weaves the fabric of my life shape by shape, colour by colour.
To be an artist it is not necessary to make a living from our creations. Nor is it necessary to have work hanging in fine museums or the praise of critics… To be an artist it is necessary to live with our eyes wide open, to breathe in the colours of mountains and sky, to know the sound of leaves rustling, the smell of snow, the texture of bark… To be an artist is to notice every beautiful and tragic thing, to cry freely, to collect experience and shape it into forms that others can share.
– Evelyne MacMillan
Artist & Instructor
During the continuing covid pandemic, masks and safety protocols must be adhered to.
Please call or email to setup an appointment to view artwork in the studio or discuss a commission. 
Visit the www.pepperalleyarts.ca to view my portfolio.
Visit our shop or contact us today!
(250) 317-2500
Studio and Gallery in Kelowna, BC.
Payments Accepted:

---
Wednesday
Appointment only
Thursday
Appointment only
---
---